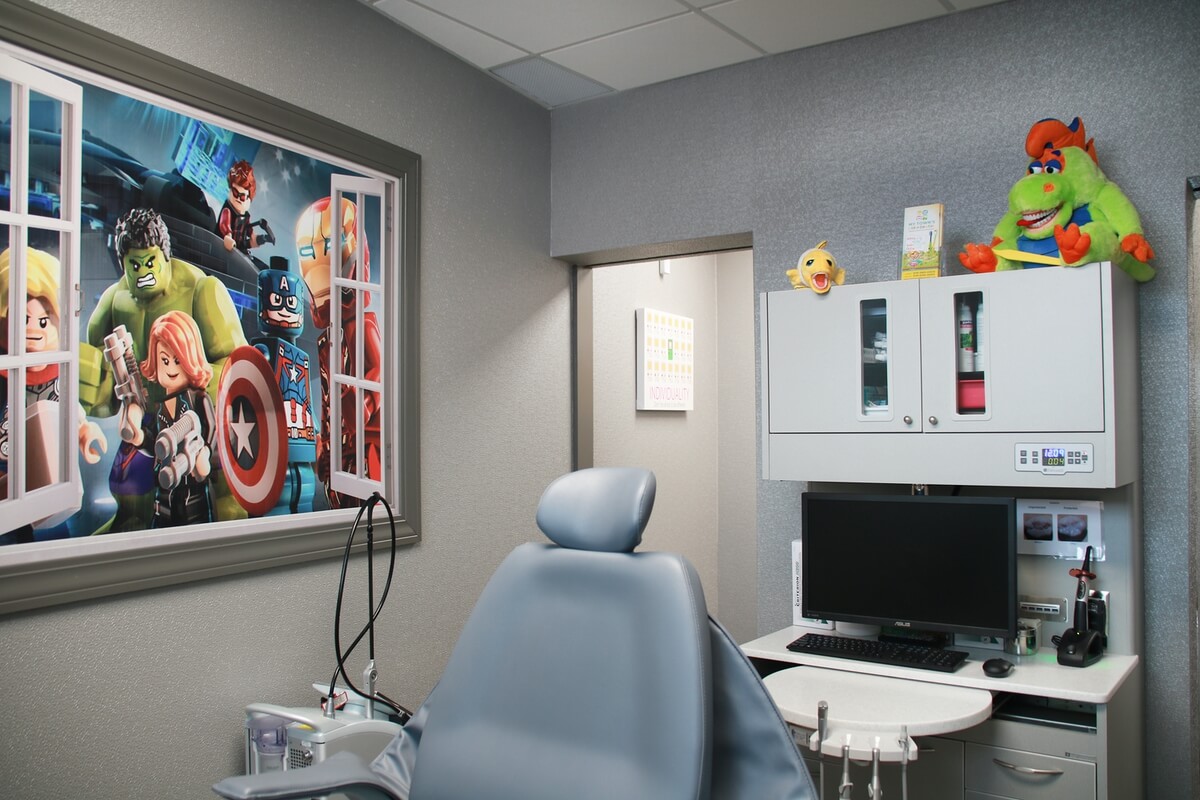 ---
My Town's Little Dentist provides pediatric sedation dentistry in Levittown, NY. Call 516-226-7337 to make an appointment.
Modern dentistry is pain-free, but many children (and adults!) have a serious fear of the dentist. Kids with dental phobias, as well as those with certain special needs and those who are too young to understand what is happening, may benefit from pediatric sedation dentistry. It can also help those who need particularly complex or long-lasting procedures.
Especially with the use of our dental lasers and no shot dentistry, the majority of our patients do not require any form of sedation.
However, we offer two different types of sedation dentistry.
Laughing Gas
---
Laughing gas is our sedation option of choice for most children. It consists of a gentle blend of nitrogen and oxygen that is inhaled through a mask over the nose. We will carefully adjust and monitor the mixture to ensure that your child feels relaxed and unafraid. Your child is free to remove the mask if he ever feels uncomfortable, and the sedation will wear off just moments later. Because this sedation is so mild, children can return to all normal activities immediately after treatment. Please discuss with your child's doctor if this treatment is a good choice for your child.
---
IV Sedation in office
If your child needs deeper sedation to treat severe anxiety, has certain special needs, or is undergoing a complex or extensive procedure, we may discuss the possibility of IV sedation. Your child's dentists will to help you decide whether this is the right choice.
When providing IV sedation, our office uses a medical anesthesiology team consisting of either two anesthesiologists or one anesthesiologist and one nurse. Our equipment is identical to that used in the most modern hospitals, and our medical team is highly trained. We follow the standards and protocols of the American Academy of Pediatric Dentistry.
We understand that dental sedation is a big decision, and we are happy to answer all of your questions and provide all of the available information to help you make your choice. If you think your child may need dental sedation for any reason, from special needs, young age or dental anxiety, please don't hesitate to call our office and schedule a consultation.
If you are in the Levittown area and your child needs sedation dentistry, we invite you to call our office at 516-226-7337 for more information and to schedule an appointment.
---
Frequently Asked Questions About Sedation Dentistry
---
What kind of sedation is used in pediatric dentistry?
---
At My Town's Little Dentist, we offer nitrous oxide sedation (also known as laughing gas) and IV sedation. In most cases, nitrous oxide is all that is needed for children to feel calm and relaxed during their appointment, but if extensive dental work is scheduled or for patients with special needs, IV sedation may be needed.
---
Should my child be sedated for dental work?
---
Ultimately, this decision is yours to make, but we're here to advise you and help you decide what's best for your child. Because we offer no-shot dentistry, most of our patients don't need sedation, but if your child is especially anxious or is having a lengthy dental procedure, they may benefit from sedation.
---
Is conscious sedation for kids safe?
---
We use nitrous oxide for conscious sedation, which is safe and effective. There are few risks or side effects, and these are typically very mild.
---
Will my child feel any pain with dental sedation?
---
When dental sedation is combined with our no-shot dentistry services, there's no need to worry about your child feeling any pain! Your child will be comfortable and relaxed while we work.
---
Do kids need laughing gas for cavities?
---
Not always, many children do not need laughing gas for cavities. We use advanced dental lasers that remove areas of decay without the discomfort of drilling. By offering laser dentistry, we've eliminated the need for sedation for many of our patients, ensuring that visits to our office are a positive experience for you and your child.